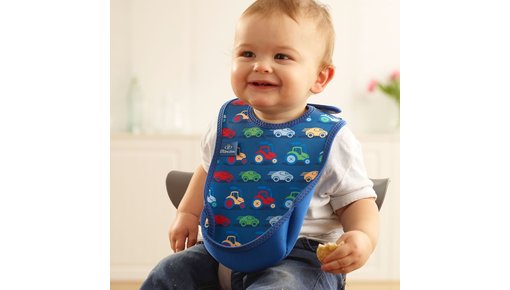 100% waterproof
Bibetta Ultrabib is a unique bib, is comfortable to wear and is made of Neoprene (known from wetsuits, for example). This ensures that the bib does not let moisture through, is easy to clean, dries quickly and absorbs well.
Read more
Bibetta Ultrabib
Due to the soft and flexible material, the Bibetta bibs are pleasant to wear.
The bib is available in many trendy colors and designs that remain beautiful even after frequent washing. The bib is easy to roll up, which is useful for transporting the bib in, for example, a diaper bag or, if necessary, a handbag.
In addition, the bottom can easily be folded into a collection gutter. Super practical!
The Bibetta Ultrabib is suitable for children from approximately 3 months.
Characteristics:
- 100% waterproof
- absorbent
- user friendly
- sustainable
- quick drying
- wearing comfort
- easy to clean
- made of neoprene (wetsuit material)
- washing machine (30ºc) and dryer resistant